Say hello to the new Muzigal!
Today we are launching our new application and website and along with it we are refreshing our look with a brand new logo and a vibrant design language. We Loved our old logo and it served us well in our initial run to 5000 students but with the great diversity our community brought in, it was time for us to evolve.
Muzigal started with a few simple questions: We asked ourselves what it would be like for students and teachers to find exactly what they are looking for? We are talking about all genres of music and musical instruments; levels of learning such as beginner, intermediate and advanced. People with different learning goals learning from different time zones, developing hobbies or careers alike.
The answers came in the form of  limitless vibrance and diversity. As we developed the tools for online music learning and teaching, our community of teachers and students stepped in with sincerity and passion for every kind of music out there. From east to west, devotional to gothic rock! Transcending cultures, geographic regions, of all ages and walks of life.
Our old brand colors and logo represented the passion for music splendidly. But we felt that the diversity of our strong community needed to be represented better. Thus, we set out to ideate our new logo, a new branding to include all of you and your music.
Our choice of hue had to match with not only the vividity of music in general but also the musicians.  Musicians, or the ones going to be, are people coming from diverse backgrounds. This simple fact helped us create a more encompassing platform. One that displays its intent by design, colours and curves. The one which convincingly says that it not only caters to music but is also representative of it. While earlier we were driven by zest and excitement, our present launch redefines the space of music learning in a more mature way.

In the true sense of evolving our old self, our new logo took cues from our old one. The 'U' from MUZIGAL stood out to represent you, our community! It was all about the music you were offering and the dancing emotions you could express in your music! The great curve representing the falling and rising notes, expressions and emotions within music. The musical note itself is the fundamental element of the universal language of music.

Our community came to us with lots of appreciation for our work. Our students and teachers actively contributed valuable feedback on the functioning and features of our application and website. We keenly listened to each and every one of them and after endless jam sessions with our developers, designers and highly talented product teams, we culminated these improvements into our next versions of the mobile application and website!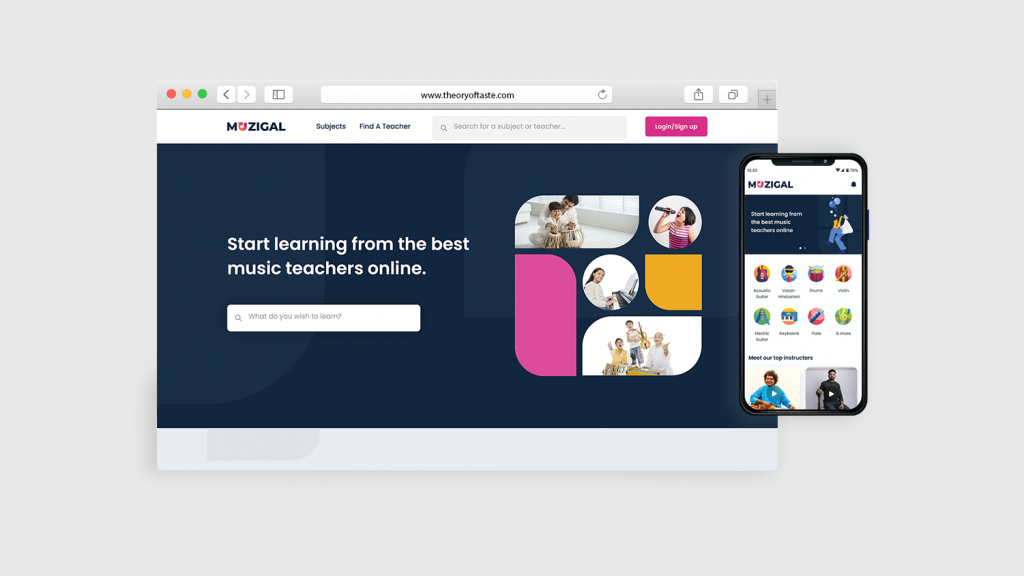 We took the platform you have come to love and made it more intuitive and user friendly. Discovering new music interests and favourite teachers among the 300+ expert teachers on Muzigal is now easier than ever. Joining a class is, as always, less than 3 clicks away. As a student, you could interact with your teacher before and after the class as well, giving you the opportunity to learn beyond the classroom. And to take this further, our great community of students and teachers are easily accessible from right here within the application.
Try the application and the website for yourself. We are sure you would love them
Link to the homepage: https://muzigal.com/
Link to the App store: https://apple.co/3vb3i6R
Link to the Play store: https://bit.ly/3f8qEVa
Nothing ends here. Change, however functional it is, is still a continuous process and we would keep working on your feedback and suggestions. As a part of our community, you would keep coming back to a better version of muzigal that you help us build.